Jones Family Farm

Goat Milk Soap

All of our soaps are made with 100% Jones Family Farm
Goat Milk. (Absolutely, no powdered or can milk used.) We
only make soap during milking season to insure that our
products receive the freshest milk possible.

We have a growing line of soaps available for each of your
needs and preferences. Old Fashioned Lye soap with goats
milk added come in many sizes and shapes to choose from.
All of our soaps are made with natural and safe products
that contain no animal ingredients, except for the goats milk
of course!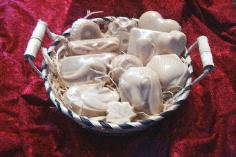 Old Fashioned Lye soap w/Goats Milk

Copyright 2009 Jones Family Farm. All rights reserved. Pictures, images, or text may
not be copied or reproduced without written permission from Jones Family Farm.